Invisalign® Clear Braces
At Belleville Dental Care we may recommend Invisalign® clear aligners for patients interested in straightening their teeth without disrupting their life!

Complimentary Consultations
See what your smile could look like following treatment!
Reserve your smile assessment: (613) 969-8800
Invisalign® for Adults and Teens
With Invisalign®, it's never too late to consider orthodontic treatment.
Invisalign® offers you the convenience and flexibility to live life without the hassle often associated with traditional wire braces.
At Belleville Dental Care, we recognize that teens and adults require an effective and convenient treatment method to straighten your teeth suited to your busy lifestyle.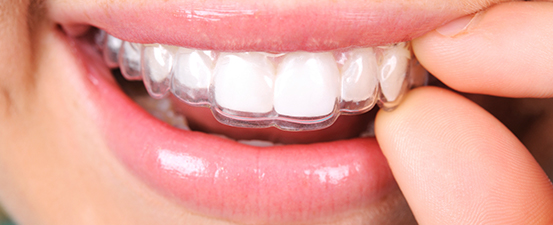 What is Invisalign®?
Invisalign® is a series of clear, virtually invisible aligners that help straighten your teeth over time.
Is Invisalign® discreet?
With Invisalign® aligners, you won't need to worry about wires and brackets or the gum and mouth irritation often experienced with traditional orthodontic treatment.
Your aligner trays are made from smooth and virtually invisible plastic that fits discretely over your teeth.
How often should I wear my aligners?
We recommended that you wear your aligners for 20-22 hours per day, ideally removing them only to eat, drink, brush, and floss. Every two weeks we will fit your for a new set of aligners until your treatment is complete.
Will wearing Invisalign® aligners affect my speech?
Invisalign® aligners may temporarily affect the speech of some users, and you may have a slight lisp for a day or two as you adjust to having the aligners in your mouth. Any lisp caused by the aligners should disappear after a few days.
---
To learn more about Invisalign® or schedule your complimentary consultation with Dr. Madison in Belleville or Dr. Weinstein in Tweed, contact us today!